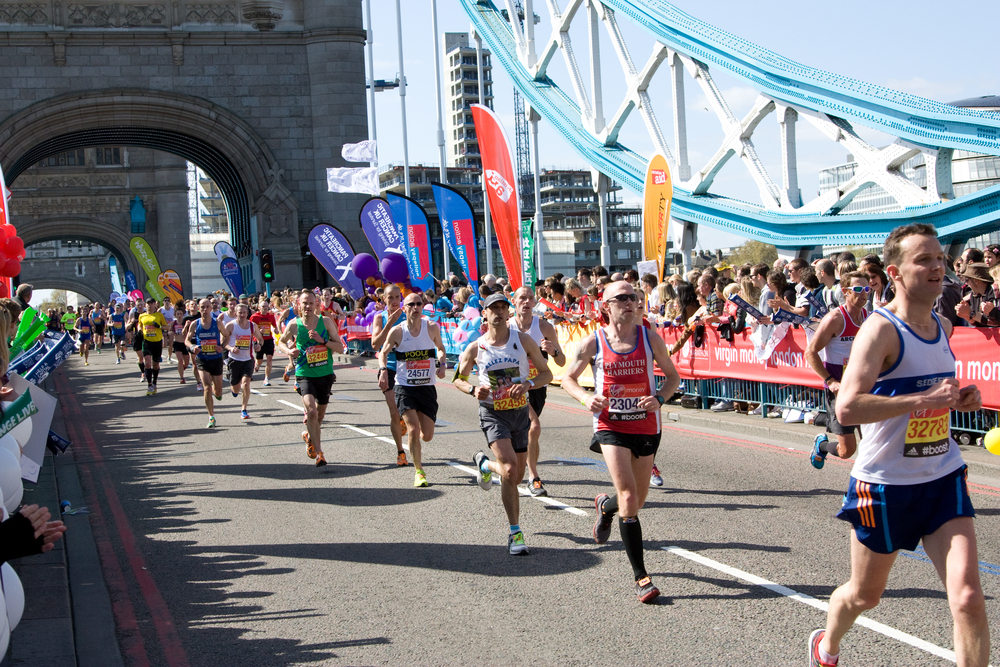 9 Nutrition Tips for Running a Marathon
With less than three weeks to go before the 2021 London Marathon, here are nine evidence-backed nutrition tips to help you get the most out of your marathon training.
ALWAYS EAT CARBS PRIOR TO A LONG RUN
A good rule of thumb is to eat a good source of carbohydrate with a smaller amount of protein and healthy (unsaturated) fat two to four hours before a run. This combination of macronutrients will provide sustained energy to help you through a longer run. For long runs, avoid too much fibre within 30 minutes of exercise, especially if you are prone to tummy issues.
The carbs in your pre-run meal will help maintain blood sugar levels during your run and prevent fatigue, while a small amount of protein and unsaturated fat will slow the digestion of carbs, resulting in a more sustained rise in blood sugar – exactly what you need when running. Good pre-run meals include a jacket potato with beans, cheese or tuna; rice with beans; chicken stew with couscous; or pasta with tomato sauce.
THINK ABOUT THE NIGHT BEFORE
Many runners prefer doing their long runs early in the morning, especially on the weekend. If this is you, prioritise carbs in your meals the day before to ensure you have plenty of glycogen in your muscles. Then have a small pre-run snack 30-60 minutes before you set off – good options include a banana, a handful of dried fruit, or a couple of Medjool dates. If you cannot stomach anything before your run, ensure you're properly hydrated before you set off and plan to run for less than 90 minutes.
REFUEL AS YOU RUN
For any run or race longer than 60-90 minutes, it's worth thinking about taking extra carbs on board while you run. This will help maintain blood glucose levels and supply a quick source of energy to your muscles, which means you'll be able to keep up your pace for longer. Start fuelling 30-45 minutes into your run and don't wait until you're depleted. Aim for 15-30g of carbs every 30 minutes depending on your pace; the key is little and often. Good options that serve up 30g of carbs include one large banana, one 50g energy gel, 500ml isotonic sports drink, or two Medjool dates.
DON'T FORGET ABOUT PROTEIN
There are three main goals of nutrition recovery: rehydrate, refuel and repair. Your post-run meal needs to supply carbs to replace glycogen but also protein to repair muscle. Aim for around 20-25g of protein post-run. Milk and soya milk alternative are near-perfect recovery drinks as they not only aid rehydration but also contain carbs and good-quality proteins to promote rapid post-run recovery. Great recovery meal options include a berry, yoghurt and almond smoothie; falafel and hummus wrap; chicken and prawn paella; bean and sweet potato curry; or a lentil, chickpea and cauliflower dahl.
MAKE SURE YOU EAT ENOUGH
One of the most common mistakes I see runners make when training for a marathon is under-fuelling. Marathon training should never be seen as a way to lose weight. Running long distances places a great deal of stress on the body and doing this without adequate fuel can harm your body. A consistent mismatch between your energy intake and output will almost certainly result in chronic fatigue, frequent illnesses and injuries and poor recovery. It can cause women to lose their period, which increases the risk of bone loss and stress fractures. Prevent under-fuelling by fuelling for the work required, ensuring you eat more carbs before hard sessions, and prioritising your post-run recovery nutrition.
CARB UP BEFORE A MARATHON
Carb loading – maximising your glycogen stores – may help delay fatigue and reduce your chances of hitting the dreaded wall. You can achieve this by increasing your carbohydrate intake for the final two days as well as tapering your training. This allows the carbs that you would have burned in your long runs to get stored as glycogen in your muscles instead. Don't overload, though – aim to keep overall calories the same by cutting fat while upping carbs. Opt for easy-to-digest carbs (e.g. potatoes, rice and pasta), aim to eat most of your carbs at breakfast and lunch and avoid too much fibre.
MAKE A FUEL PLAN
Everyone's different so you will need to work out what works for you by practising your fuelling and hydration strategy a few times during your long runs. Simulate race-day conditions as far as possible, using the same foods and drinks and practise taking them at the frequency you plan to during the race. Making it as realistic as possible will help ensure there won't be any surprises on the big day. You'll also need to practise drinking on the move from cups or bottles. This may feel tricky or uncomfortable to start with but start with small amounts and gradually build up. Check in advance where feeding and drinks stations are on the route so you can plan when to refuel.
STICK TO WHAT YOU KNOW
It may sound obvious but don't do anything new on race day. I've seen so many first-timers make the mistake of consuming energy gels or products for the first time during their marathon experience stomach problems. If you want to use these products, trial them during your long runs. Similarly, don't make the mistake of eating anything different for breakfast on race day – if you normally have porridge with honey before your long runs then eat porridge with honey before your marathon.
DON'T OVER-HYDRATE
If you've practiced a drinking strategy in training, then you should have a good idea how much to drink. But if the temperature is higher or lower on race day then you will need to adjust your plan. Dehydration can increase fatigue, slow your pace and cause a drop in performance. Equally, drinking more than you've lost in sweat – over-hydration – can be just as harmful. If you feel bloated, swollen and fatigued, then you're probably over-hydrated so should stop drinking.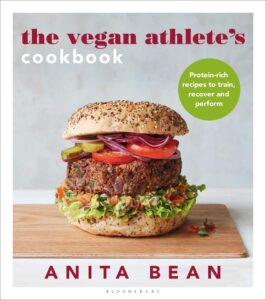 If you enjoyed this article and want to find out more about food and nutrition, as well as some easy and tasty meal inspiration, then my new book, The Vegan Athlete's Cookbook is now available to pre-order
Exciting, healthy and tasty vegan recipes with the nutrients you need to train, recover and perform.
Whether you already live a vegan lifestyle, embrace a meat-free day each week or you simply want to try some amazing flavour combinations, The Vegan Athlete's Cookbook will help you create easy, nutrient-packed meals to support your training goals.
With a focus on performance, every recipe has been created to provide a high level of nutrients that will fuel your body. All the main meal recipes supply at least 20g protein per serving, the optimal amount needed for muscle recovery.