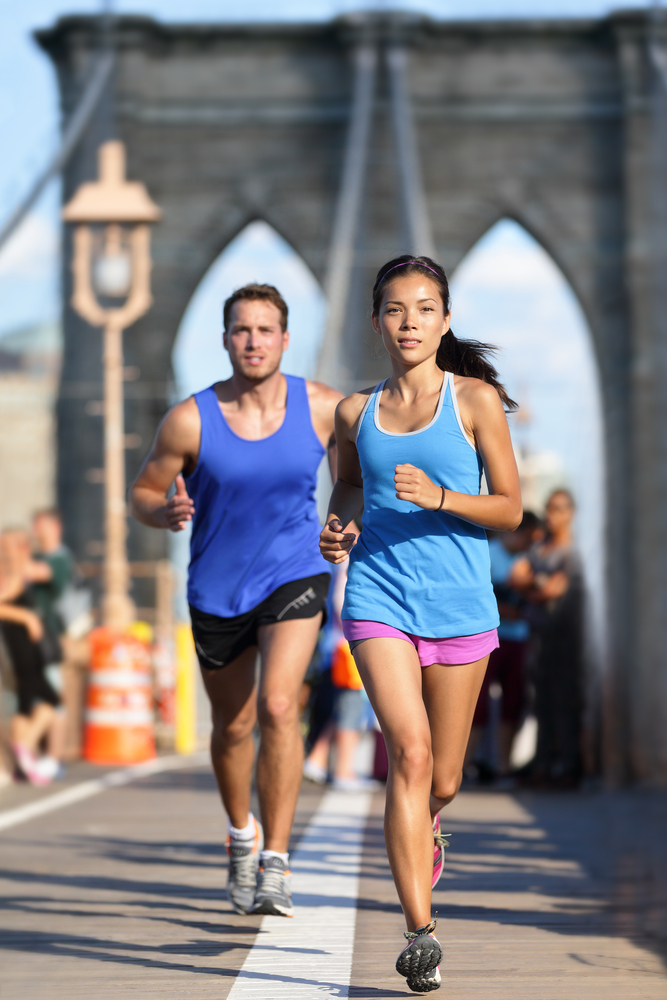 Marathon Fuelling Part 2: What to Eat Before A Marathon
With less than three weeks to go until the Virgin Money London Marathon, now is the time to ease up on your training programme. You'll need to adjust your food intake to the requirements of your taper and rehearse your race day fuelling plan. If you get your pre-marathon nutrition right, then you'll greatly reduce your chances of hitting the wall. Here's what you need to know.
Practice your fuelling plan
Aim to do two or three long training runs using the same fuelling schedule you plan to use in the race. Simulate race-day conditions as far as possible, using the same foods and drinks and practise taking them at the frequency you anticipate during the race. Practice carrying your fuel in pockets or belts, and eating them on the move. A good tip is to cut bars into handy portions before you set off, or tear the tops of wrappers for easy access during the run.
You'll also need to practise drinking on the move from cups or bottles. If you find drinking makes you feel uncomfortable and nauseous, then start with small amounts and gradually build up. Get used to the feeling of running with drink in your stomach.
Nothing new on race day
Find out in advance what products and drinks will be provided by the race organisers so you can practice with these if necessary. Everyone's different so you will need to experiment with different mid-race fuelling options to find out what works for you. Whether you decide to use real food or supplements comes down to personal preference. Real food options include bananas, fruit and nut bars (e.g. Nakd, Trek ), homemade energy balls and energy bars, oat bars (e.g. Tribe, Deliciously Ella,  Nom) , jelly babies, Kendal mint cake, dates and raisins. Supplements such as gels, energy bars and chews offer convenience but do not suit everyone.
The new rules of carb-loading
Your body can only store a limited amount of carbohydrate (glycogen) in your muscles and liver (around 500g), enough to fuel 18 – 20 miles of running. When your glycogen stores are depleted, you feel exhausted, disorientated and unable to run any further. This is known as hitting the wall and can be avoided by carbohydrate loading – ensuring you begin the race with fully-stocked glycogen stores – as well proper pacing and mid-race fuelling.
The old strategy of glycogen depletion followed by glycogen loading phase before loading is no longer recommended. The newer protocol recommended by sports scientists comprises a gradual reduction in training volume over the final three weeks before the marathon together with an increase in carbohydrate for the final two days.
Don't overload
Before you tuck into a mountain of pasta and a family-sized pizza, remember carb-loading doesn't mean eating whatever you want! Do that, and you risk gaining weight and feeling lethargic on the start line. Instead, keep your food (calorie) intake roughly the same but cut fatty foods and focus on high carb foods. When you're tapering, you're burning less energy so by keeping your food intake the same, most runners will replenish their glycogen stores.
Keep it simple
Stick to familiar foods – foods that you know agree with you – and eat them in normal-sized amounts (no need for mountains of pasta!). Include a portion of porridge, rice, potatoes, sweet potatoes or bread with each meal and add two or three high-carbohydrate snacks, such as bananas, fruit and nut bars or toast. Eating little and often can be an easier strategy than eating big meals the day before the race so you don't over-burden your stomach.
A good tip is to eat most of your food at breakfast and lunchtime rather than late in the evening so you don't go to bed feeling uncomfortable. Steer clear of anything that may upset your stomach. Common culprits include pulses (beans, lentils and chickpeas), brassica vegetables (cauliflower, sprouts and broccoli), very spicy dishes and high fibre cereals. On the other hand, if you're normally fine with these foods, then there's no need to avoid completely. Suitable meals include:
Porridge with fresh or dried fruit
Pad Thai (noodles) with tofu or chicken
Baked Potato with hummus or tuna
Vegetable risotto or pilaf
Pasta with chickpeas or chicken
Couscous or rice salad with Goat's cheese or fish
Eat breakfast 3 -4 hours before the start
You need to get up early enough to eat and digest your pre-race meal. Ideally, schedule your breakfast 3 – 4 hours before the race start time. So, if your marathon starts at 10 am, have breakfast between 6 am and 7 am. Stick with what you're used to. Include carbohydrate (such as oats or toast) with a little protein (such as milk or egg) or healthy fats (such as nuts or avocado) to increase satiety and provide a more sustained energy release. Suitable options include
A bowl of porridge with bananas or berries
Avocado or egg on toast
Greek yogurt with fruit and nuts
Granola with milk and fruit
If you find it difficult to eat your normal breakfast because of pre-race nerves, try a banana or a nutritious drink (such as a smoothie or milkshake). Porridge pots that simply require adding boiling water are good options if you need to eat in a hotel room or on the move.
Last-minute fuelling
If you feel hungry when you arrive at the start, have a carbohydrate-rich snack about 30 – 60 minutes before the race. A banana, some dried fruit, a gel or a fruit & nut bar are good options. This isn't essential but, for those who had a particularly early start or long journey to the start, some last-minute fuelling may make you feel better.
Pre-race hydration
Hydration is a fine balance. Don't start the race dehydrated, but nor do you need to aggressively hydrate beforehand. You don't want to be making unnecessary pitstops early in the race!  As a rule, the ASCM advise 5 – 10ml of water/ kg BW in the 2 – 4 hours before the race – or 350 – 700ml for a 70kg runner. You can then sip small amounts, just enough to satisfy your thirst, during the 60 minutes before the gun goes off.
I'll be speaking on Centre Stage at the Virgin Money London Marathon Running Show, London ExCel from 24th – 27th April. Its FREE entry! The show will feature lots of talks and interviews with celebrity runners! Click the link here for more information.
Marathon Fuelling, Part 3: What to eat and drink during a Marathon, provides practical race-day nutrition tips to ensure you make it to the finish line.
Marathon Fuelling, Part 1: What to eat for Marathon Training, gives essential nutrition advice to help you get the most from your marathon training programme.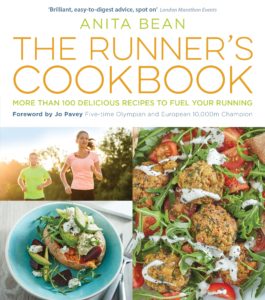 If you enjoyed this post and want to find out more about sports nutrition, then check out my brand new book, The Runner's Cookbook. It features more than 100 delicious recipes to fuel your running. With a foreword from five-time Olympian Jo Pavey, the book also provides practical nutrition advice on fuelling before, during and after running, guidance on hydration and supplements, weight loss tips, how to recover from injury, and how to prepare for 5k, 10k, half marathons, marathons and ultra races.