What every athlete needs to know about protein
Getting enough protein in your diet is important for everyone – but especially for athletes. Along with helping you feel fuller for longer, this macronutrient helps build and repair your muscles, cartilage, ligaments after a tough workout. It also makes skin, bones, hair and lots of other tissues as well as enzymes, hormones, and antibodies for your immune system. Although most of the energy used during exercise comes from carbohydrate and fat, protein also contributes to the fuel mixture, to the tune of  2 – 5% – and even more if you're low on carbohydrate.
Even if you hit the recommended guidelines, you may not be getting enough protein to recover fully from your workouts. According to the International Society of Sports Nutrition, athletes need more protein than the average person and recommends consuming between 1.4g and 2g of protein per kilogram a day . For a 70kg athlete, this equates to 98g to 140g per day. This is needed to repair muscle fibres damaged from training and improve recovery as well as to build mitochondrial proteins, the powerhouses of the muscle cells that make energy.
How much protein you should consume in one serving is a subject of debate by scientists. Most believe that around 0.25g of protein per kg of body weight, is the optimal amount for building muscle mass,  or an absolute amount of 20g of protein per meal. Anything greater than this won't give you any performance advantage since muscle protein synthesis is maxed out around 20 g of protein at one time. Instead it would be used for energy or excreted in our urine. As a rule of thumb, it's a good idea to consume 20g of protein as soon as possible after training and in each of your meals and snacks. Here are 20 ways to hit the 20g mark at breakfast, lunch and dinner as well as in your snacks.
Where should your protein come from?
Although meat is a concentrated source of protein, you can easily obtain enough protein from other foods. Dairy, beans, lentils, tofu and eggs, for example, are all excellent sources of protein so it's not difficult to get your daily quota.
When we talk about protein we are really talking about amino acids. These are the building blocks of proteins that are combined in many different ways to make hundreds of different proteins, each with specific roles in the body.  Nine cannot be created in the body and are called 'essential amino acids' (EAAs). These must be provided by the diet. It is the amount of these EAAs in foods that determine how useful the protein is to the body.
Foods containing high levels of all EAAs are regarded as 'high quality' or 'complete' proteins. These include meat, dairy, eggs and soya. On the other hand, plant sources such as beans, lentils, nuts, seeds and grains are lacking in one or more essential amino acid so are not as 'complete' or useful on their own. This makes them less efficient at building muscle than animal proteins.
However, you can compensate for the lower anabolic properties of plant protein by eating bigger quantities to get higher amounts of EAAs or by combining more than one source to produce a more balanced amino acid profile, e.g. beans and rice. Maastrict University researchers  showed that consuming 20g plant protein typically results in submaximal MPS but consumption of a greater amount and/ or combining more than one plant protein augments the MPS response.
To supplement or not?
The International Association of Athletic Federations recommends whole-food sources of protein rather than supplements. Not only are they generally less expensive, but they can offer a range of other nutrients. What's more, studies have shown that food sources, such as dairy or soya milk, are just as effective for muscle recovery as protein supplements. Specifically, the interaction of the other nutrients contained within the food matrix, may actually increase the use of protein for muscle repair.
Despite the attractive claims, there's no evidence that consuming more protein than you need will lead to bigger muscles or greater strength gains. But that's not to say that there aren't circumstances where a protein shake or bar comes in handy, for example if you're training or competing in an environment where there's no opportunity to store or prepare foods. Also protein supplements may be helpful if you find it difficult to meet your protein quota from food alone, for example, if you're following a vegan diet.
Of the animal-based supplements, whey is a good post-exercise choice as it is digested and absorbed rapidly, while casein taken before bedtime may help promote muscle recovery as it is absorbed at a slower rate. Vegan protein foods tend to be bulkier and more filling, making it harder to meet daily protein needs. Another limitation is that most plant-based proteins fall short of one or two essential amino acids (EAAs), so won't promote muscle building as effectively as animal-based proteins unless two or more plant proteins are combined.  Soy protein is probably your best option as it has more leucine (an EAA thought to trigger muscle building) but pea and rice blends are also good.
6 high-protein recipes
Black Bean and Vegetable Curry
Quesadillas with Beans and Red peppers
Roasted Carrots, Chickpeas and Grains with Pecans
This is an abridged version of the article '20 ways to get 20g of protein', originally published in Cycling Weekly on 5th March 2020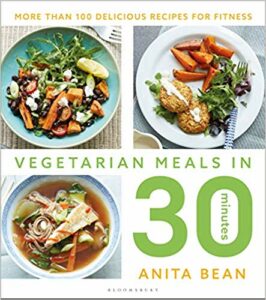 If you enjoyed this article and want to find out more about food and nutrition, as well as some easy and tasty meal inspiration, then my new book, Vegetarian Meals in 30 Minutes: More Than 100 Delicious Recipes for Fitness, is a great place to start. It features:
More than 100 delicious recipes for breakfasts, salads, burgers, falafels, soups, curries, stews, weekend dinners, desserts and snacks that take 30 minutes or less to prepare
Expert advice on how to how to eat well and improve your performance
Beautiful food photography
Full nutrition information for each recipe