Nutrition for Recovery From Sports Injuries
Almost every athlete will have to take time off from training due to a sports injury at some stage. A survey of British Olympic athletes found that 43% of athletes get at least one injury per season, some suffering multiple injuries, with each injury causing on average 17 days lost to training and one competition to be missed. And when that happens you'll want to do everything possible to speed your recovery. Here are some evidence-based nutrition recommendations to help you avoid muscle loss and unwanted weight gain during recovery from injury.
How can I avoid gaining or losing weight while injured?
To avoid unwanted weight gain when you're not exercising, you will need to compensate for your reduced calorie output by eating less. However, this may not be as much as you imagine – during the initial recovery phase, resting metabolic rate increases by 15 – 50%, depending on the type and severity of injury, and effectively counteracts some of the drop in energy output from physical activity.
Overly restricting your food intake when injured hinders recovery, delays healing and reduces muscle protein synthesis (MPS). Similarly, a large calorie excess can also delay recovery. In practice, you will probably need to consume less than when in training but more than your sedentary baseline intake. Of course, this is easier said than done as it may take a while for your appetite to re-adjust if you are used to consuming, say, 3000 or 4000 calories. Replacing processed snacks such as cakes, biscuits and crisps with fruit, vegetables and nuts, which are more nutritious and are naturally more filling is a good place to start.
How can I minimise muscle loss?
Loss of muscle mass (atrophy) is perhaps the biggest problem during recovery from injury, especially if you have broken a limb. Even short periods (1 – 2 weeks) of muscle disuse can cause substantial loss of muscle mass and strength. Most of this is due to a decline in muscle protein synthesis (MPS) as the muscles become more resistant to the muscle-building effects of dietary protein ('anabolic resistance').
To minimise muscle loss, you'll need to ensure you are consuming enough protein. Although you're not exercising as much, your body needs additional protein for healing, and for the formation and repair of body tissues. A sub-optimal intake of protein or a drastic reduction from pre-injury levels, will impair healing and exacerbate muscle loss.
There are no official protein recommendations for recovery but studies suggest intakes in the region of 2 – 2.5g/ kg body weight/ day would help minimise muscle loss. It would also be wise to include a minimum of 20–25g at every meal and to include protein in snacks. Distributing your protein evenly across your meals and including high quality proteins that are naturally high in leucine can help mitigate anabolic resistance. These include whey protein supplements, dairy products, eggs, meat and fish. Plant protein sources include soya (tofu, soya milk alternative and tempeh), chia seeds and quinoa.
What supplements may promote recovery from injury?
Some evidence suggests creatine supplementation may help you regain muscle faster during recovery following immobilisation. Omega-3 supplements may help to reduce inflammation and promote wound healing. Including omega-3-rich foods, such as oily fish, walnuts, rapeseed oil, chia seeds and ground flaxseed is also likely to help the healing process.
Scientists are currently investigating whether collagen supplementation can prevent or treat musculoskeletal injuries. One study showed that taking 15g of vitamin C-enriched gelatine (a food form of collagen) 1h before high-intensity exercise (skipping) increased collagen manufacture. But its early stage research and the functional benefits are not currently known.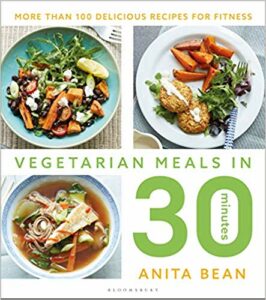 If you enjoyed this article and want to find out more about food and nutrition, as well as some easy and tasty meal inspiration, then my new book, Vegetarian Meals in 30 Minutes: More Than 100 Delicious Recipes for Fitness, is a great place to start. It features:
More than 100 delicious recipes for breakfasts, salads, burgers, falafels, soups, curries, stews, weekend dinners, desserts and snacks that take 30 minutes or less to prepare
Expert advice on how to how to eat well and improve your performance
Beautiful food photography
Full nutrition information for each recipe